Our story
Hi, we are Dana and Darko. Hophead is our dream and our struggle, started a while back from a far fetched fantasy followed by 5 years of brewing adventures
It's personal. Our mission is true and authentic. To create a good beer for us and our friends, for all the undecided choosing what to enjoy, for the knowledgeable who hunt for the new ticked off brew, and for the loyal who wouldn't try anything else ever again.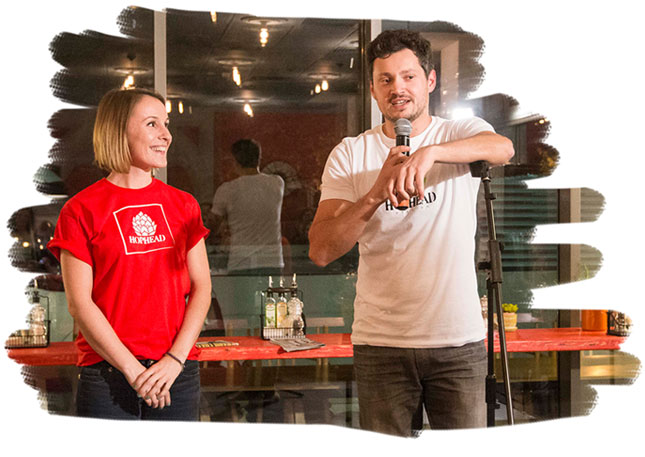 This is our story.
Our paths crossed in the US, through a series of improbable events so we were under the impression some lucky star shone above us. And that's right. We came across craft beer through a friend, like you always do when you stumble upon something that changes you irreversibly. Someone introduces you to a new world and you take it and goooo.
Then, there was the bar we visited so we can explore this new (for us) hipster thing called craft beer. And, as it is with any good story, the bartender was the one who tipped us over the edge by making us try the good stuff.
Timidly, the ever present lagers were substituted with a myriad of new beer styles of belgian beers, pale ales, hefeweissens, IPA's, porter, although wine never left the stage. No, we had not been living under a rock for the last few years, but for us this was the start.
Darko, although a reluctant starter in trying out new styles, got very interested in the process of making beer after falling in love with craft as he always likes to know how things work. A good way of learning how to use the stove as well (finally), and the rest is history. The first beer he brewed was Dark'Oh, which we still brew with the same recipe from 10 years ago when he used the stove to brew it.
TIMELINE
There were 2 craft breweries in Romania in 2012 when we landed in Romania. It took another 2 years from opening the SRL in 2013 to selling our first 50L batch in 2015. It's hard to gloss over the frustration from our mission impossible experience from authorizing a microbrewery in a country where there is no legislation that makes it easier for artisans to create something, so all the details will stay blurry bitter memory.
Our decision to not reach out to investors or banks meant all of our savings from having worked in the US were invested in the brewery. And mostly in rent in the first year as it took over 9 months of renting an unused space. The start was a 50L Braumeister in a 100 sqm space. After about a year we purchased a 200L Braumeister and 5 300L fermenters. The following year, in the beginning of 2017 we rented additional space in the building. We had now reached – wait for it – 160 sqm of a brewery. Huge!
One of us kept a full time job, plus helping out in the brewery and the other was non stop at the brewery with long days and weekends. This lasted for 2 years while we used every single ml and square centimeter to its full potential. From 500L per month we reached 3000L per month in 4 years in the same space. By this time we had one more full time employee and some seasonal help in the summer cause it was just too much.
When our family grew, we were already decided to stop the insane working rhythm and convinced that growing our brewery into a different larger space was the way to go. Our good fortune continued when our lifetime close friend offered to invest in our business so we can take this step. This blew wind in our wings and gave us hope that we can move forward and start all over with the process.
Fast forward today, a year and a half after renovating a new space, authorizing it, having many steps being delayed by incompetency and lack of interest we finally have a 'real' brewery where we brew 1000L batches and we can get to 20000L per month if needed.
Our dream is slowly going forward, growing, reinventing, adjusting, making mistakes along the way and learning from them, but keeping a smile on and the hope alive.